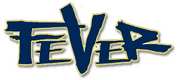 The Tri-Cities Fever are a team in the National Indoor Football League, arenafootball2 and the Indoor Football League. They won a championship in their first season in the NIFL. They introduced a new logo with colors that were the same as the NFL's Miami Dolphins, but they changed it back to their old logo because of general fan dislike. After the af2 disbanded, the Fever joined the IFL.
Ad blocker interference detected!
Wikia is a free-to-use site that makes money from advertising. We have a modified experience for viewers using ad blockers

Wikia is not accessible if you've made further modifications. Remove the custom ad blocker rule(s) and the page will load as expected.