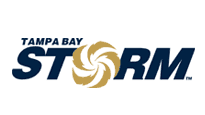 The Tampa Bay Storm are a team in the Arena Football League. Originally called the Pittsburgh Gladiators, they were one of four charter members of the league and the only one still operating today. Longtime coach Tim Marcum is a member of the AFL Hall of Fame.
Ad blocker interference detected!
Wikia is a free-to-use site that makes money from advertising. We have a modified experience for viewers using ad blockers

Wikia is not accessible if you've made further modifications. Remove the custom ad blocker rule(s) and the page will load as expected.