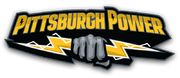 The Pittsburgh Power are a team in the Arena Football League. Their home city was previously home to the Pittsburgh Gladiators, who were one of the original four AFL teams before they moved to Tampa and became the Tampa Bay Storm. They became the Power because the "Gladiators" name belonged to the Cleveland Gladiators. Former Pittsburgh Steelers WR Lynn Swann, who is a Pro Football Hall of Famer and a former political candidate.
Ad blocker interference detected!
Wikia is a free-to-use site that makes money from advertising. We have a modified experience for viewers using ad blockers

Wikia is not accessible if you've made further modifications. Remove the custom ad blocker rule(s) and the page will load as expected.