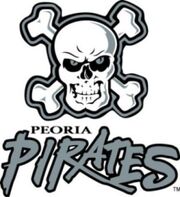 The Peoria Pirates were a team in arenafootball2. They also played in the Indoor Football League and United Indoor Football as the Peoria Rough Riders. They won the IFL Gold Cup and the af2 ArenaCup. After losing ArenaCup V, they moved to UIF. The Rough Riders folded after a winless season in 2006. The team folded altogether after the af2 folded in 2009.
Ad blocker interference detected!
Wikia is a free-to-use site that makes money from advertising. We have a modified experience for viewers using ad blockers

Wikia is not accessible if you've made further modifications. Remove the custom ad blocker rule(s) and the page will load as expected.