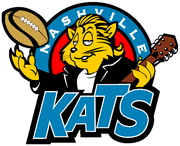 The
Nashville Kats
were a team in the Arena Football League. The original team began play in 1997 then moved to Atlanta, Georgia and became the
Georgia Force
. However, the team was revived in 2005 and in 2007, the team folded altogether. The logo design features a tabby cat wearing a 1950's style leather jacket, holding a guitar in one hand and juggling a football in the other. The only logo change for the team's revival was the football was different colors.
Ad blocker interference detected!
Wikia is a free-to-use site that makes money from advertising. We have a modified experience for viewers using ad blockers

Wikia is not accessible if you've made further modifications. Remove the custom ad blocker rule(s) and the page will load as expected.