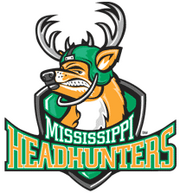 The Mississippi Headhunters are an inactive team in af2. They began as the Columbus Wardogs. They were to begin play in 2005, but were forced to suspend operations due to Hurricane Katrina. Their logo is a buck with a football helmet on its head.
Ad blocker interference detected!
Wikia is a free-to-use site that makes money from advertising. We have a modified experience for viewers using ad blockers

Wikia is not accessible if you've made further modifications. Remove the custom ad blocker rule(s) and the page will load as expected.