Las Vegas Outlaws

Established

2014

Play

Las Vegas, Nevada
The Las Vegas Outlaws are a professional Arena Football League team based in Las Vegas, Nevada. They will begin play in the AFL's National Conference West Division in 2015. The franchise is owned by Vince Neil, lead singer for Mötley Crüe and current minority owner of the Jacksonville Sharks.
Neil won approval from the league for the franchise on June 17, 2014. According to reports from ESPN, he has asked to name his team the "Las Vegas Outlaws", not to be confused with the former XFL franchise from 2001 of the same name.That wish was granted on August 22, 2014, when the announcement was officially made that the team will indeed be called the Outlaws.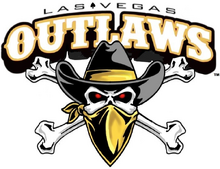 Ad blocker interference detected!
Wikia is a free-to-use site that makes money from advertising. We have a modified experience for viewers using ad blockers

Wikia is not accessible if you've made further modifications. Remove the custom ad blocker rule(s) and the page will load as expected.