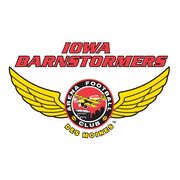 The Iowa Barnstormers are a team in the Arena Football League. There have been two teams with the name "Iowa Barnstormers". The first team moved to Long Island and became the New York Dragons and the second is still playing. The first team lost two ArenaBowls and the second never made it this far. Their first chairman was Jim Foster, the founder of the Arena Football League. Players included Arena Football League legends Kurt Warner and Aaron Garcia.
Ad blocker interference detected!
Wikia is a free-to-use site that makes money from advertising. We have a modified experience for viewers using ad blockers

Wikia is not accessible if you've made further modifications. Remove the custom ad blocker rule(s) and the page will load as expected.