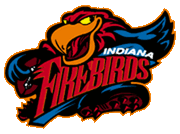 Albany Firebirds

Franchise Information

Founded
1990 (As original Albany Firebirds)
Folded/Ceased Operations
2004
History
AFL franchise:
Albany Firebirds (1990–2000)
Indiana Firebirds (2000-2004)
League(s)
Arena Football League (1990–2000), As Indiana Firebirds (2000-2004)
conference
American
Arena
Market Square Arena
City
Albany, NY (AFL team, 1990–2000)
Indianapolis, IN (AFL team, 2002–2004)
Colors
Black, Royal Blue, Burnt Orange, Red, Gold, and White


    

    

    

    

    

    

Owner
Dave Lageschulte
Head Coach
Championships
1 (1999)
Division titles
6 (1994, 1995, 1996, 1998, 1999, 2000)
Conference Titles
1 (1999)
The Indiana Firebirds were a team in the Arena Football League. They originally played as the original Albany Firebirds. They were successful in their first two seasons in Indianapolis. After the 2004 season, the team folded.
Ad blocker interference detected!
Wikia is a free-to-use site that makes money from advertising. We have a modified experience for viewers using ad blockers

Wikia is not accessible if you've made further modifications. Remove the custom ad blocker rule(s) and the page will load as expected.