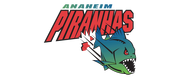 The Anaheim Piranhas were a team in the Arena Football League. They started out in Las Vegas as the Las Vegas Sting, but after two seasons there the team moved to Anaheim and became the Piranhas. The team folded after multiple losing seasons. Team owner C. David Baker moved on and became the Arena Football League commissioner.
Ad blocker interference detected!
Wikia is a free-to-use site that makes money from advertising. We have a modified experience for viewers using ad blockers

Wikia is not accessible if you've made further modifications. Remove the custom ad blocker rule(s) and the page will load as expected.